Tourism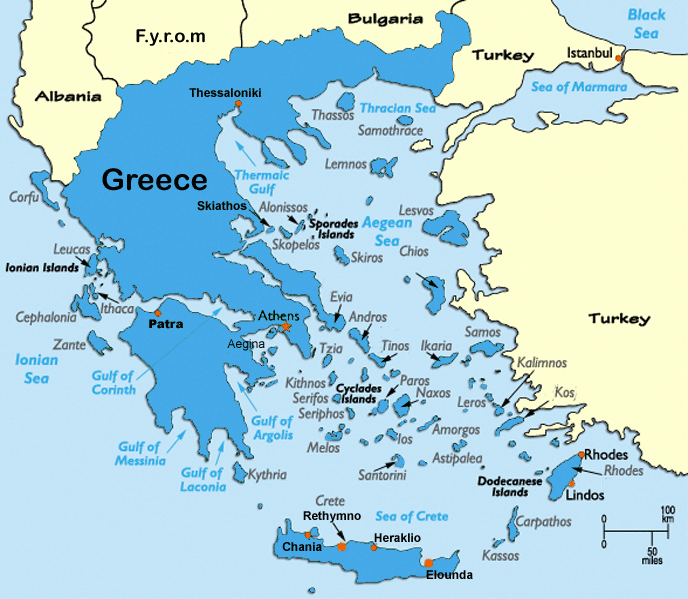 Roll over the islands and click to navigate to the island's page!
We thank www.greek-islands.us for the map distributed with the creative commons v3.0 license

Crete offers a great range of activities, including water sports, biking, hiking, climbing, and many places that one can visit, including archaeological sites, monasteries and monuments, among others. You can find general information 
here
.
Activities in Crete
Biking / Climbing
A full range of organised activities is proposed in this link (as well as in other links you can find on the web).
Psiloritis mountain and Lefka Ori (White Mountains) offer a great experience for hiking.
If you are interested in climbing, some suggestions for the region of Rethymnon can be found here.
Hiking
Water sports / sea activities
Crete offers a great range of water activities including kayaking, windsurfing, scuba diving, fishing, sailing.
Places to visit
Museums
For the
entire list of museums
you can check this link and choose depending on your personal interests. Here are a few that are easy to reach:
Archaeological sites
Archaeological sites inside Rethymnon


Make sure you visit Fortezza castle, Megali Porta, Rimondi Fountain, Loggia, the Turkish Minaret. You can find more about Rethymnon here.



Top archaeological sites to visit outside Rethymnon:

The Minoan palace of Knossos, the center of the Minoan civilization, located 5 kilometres from the city of Heraklion.
The Minoan palace of Phaistos, located 78 km from Rethymnon. If you go to Phaistos, you may want to visit the nearby Matala beach. It is a beach with many caves, made famous in the late 60's and 70's because hippies used to live there.
Ancient Eleftherna, a prominent ancient city-state of Crete, inhabited around 2000BC, located 27km outside the city of Rethymnon.
Chania
Chania is a very popular destination in Crete due to its well preserved old town, its Venetian harbour and its architecture. For more information visit
this link
.
Beaches
Beaches in / close to Rethymnon
Beaches south of Rethymnon
In the south of Rethymnon, you can enjoy a view of rocky mountains with sandy beaches. Below are listed some of the most well known beaches south of Rethymnon, but wherever you go, it will be a very nice experience.
If you want to explore other beaches of Crete outside Rethymnon, you can look
here
.
Famous Beaches in the south-west of Chania:
Balos and Gramvousa
Elafonissi
Falasarna
Monasteries
Outside Rethymnon, but close by, are located the following monasteries:
Arkadi (22 km from the city of Rethymnon)
Preveli (34 km from the city of Rethymnon). Next to the monastery is the popular Preveli beach.
Other monasteries in the region of Rethymnon can be found here.
An interesting monastery in the Lasithi region (223 km from Rethymnon) is Toplou Monastery with its unique wine.
---